If you've read any of my previous articles, you'll know that I pride myself on giving you the most space and equipment to practice. These kettlebell exercises for beginners are no different. You will only need one kettlebell and space to swing it.
Whether you're a beginner or an experienced athlete who wants to better understand how to use a kettlebell, this article will give you some useful content that you can apply right away to get more out of your kettlebell and your body.
First let's talk about why to use a kettlebell. Why I believe this training equipment is superior to any other training equipment available to you.
Quite simply: versatility. It gives you the ability to help you in all aspects of fitness, from strength, speed and power, to improve your fitness and muscular endurance.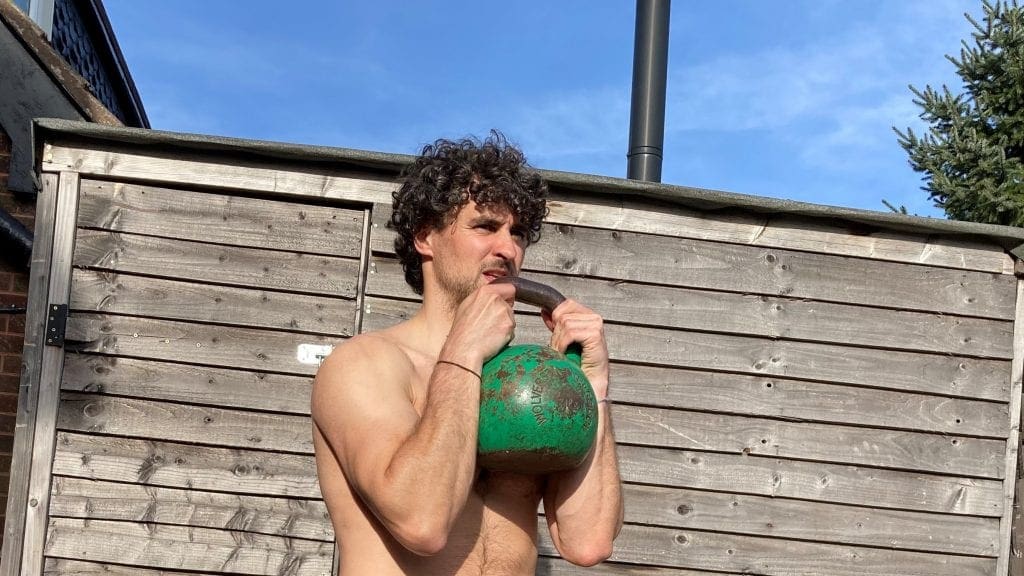 As our society continues to move away from manual labor, our overall work capacity, core stability, and grip strength continue to decline.
The thicker handle and grip of the kettlebell help us work on improving our grip strength, while the load positions give us the opportunity to build a stronger core and improve our body's robustness.
These beginner kettlebell exercises will give you everything you need to start your kettlebell training journey, but also give even the most seasoned kettlebell swingers and slingers a pretty tasty workout.
Kettlebell exercises for beginners
Here you can watch a video of all the movements performed in any of these kettlebell exercises for beginners.
1. EMOM X AMRAP
12 KB Russian swings (24/16 kg)
*Add 2 reps every minute
Where better to start our kettlebell journey than with the King of Kettlebell kettlebell swing workout!
The kettlebell swing is said to be the most beneficial exercise available to you because it not only helps correct the most common problems of tight hips, weak core and glutes, but also helps build a stronger posterior chain, which is the key to almost all athletic exercises. efforts.
In this workout, you'll start using the minute-by-minute protocol, completing 12 reps in the first minute and resting for the rest of the minute. You will then add two reps for each minute that follows, continuing until you can complete the reps in the minute window.
Try to achieve more than 30 repetitions within a minute.
2. 10-minute AMRAP
+2 KB Goblet Squats
4 Burpees
Another and equally important kettlebell exercise is the KB goblet squat, invented by the man, the myth, the legend Mr. Dan John and used by trainers around the world as a progression to the weighted squat.
For this workout you will perform 2 kettlebell goblet squats followed by 4 burpees. Each round, add 2 more goblet squats, but remember to maintain good form and go deep when you squat.
The loading position of the goblet squat allows us to eliminate some of the points found in back squat variations while increasing core and postural muscle activation while fighting to maintain a neutral spine.
3. Down by 5
Chance to tag many boxers here. The thruster gives you a double compound movement that crosses 4 joints and works everything from your toes to your fingertips. The explosive deadlift allows you to engage your glutes and hamstrings to generate some back power.
As the rounds progress and reps decrease, your focus is to increase the intensity ending on 5 with a lunge.
4. Kettlebell Bro Sesh
50-40-30-20-10 repetitions
KB Ballistic lines
10-20-30-40-50 repetitions
Push-ups
We all love a bro session every now and then. You will complete 50 ballistic rows followed by 10 push-ups.
Ballistic rows are reduced by 10 reps per round and push-ups are increased by 10 reps per round to hit your back and biceps, chest and triceps in one compact piece.
Related: The Ultimate Kettlebell Upper Body Workout
5. Tanked Up Tabata
2 min Work|1 min Rest x 8 rounds
2 Burpees
4 KB American swings
6 Lunges
This is a real opportunity to open the gas. I call this Tanked up Tabata because, well, it's Tabata, but with added firepower.
You will complete 2 minutes of work followed by 1 minute of rest. In 2 minutes you will complete as many circuits of 3 movements as possible – you should be able to complete some work here, rest for a minute and repeat for 8 circuits. A real lung buster!
Kettlebell exercises for beginners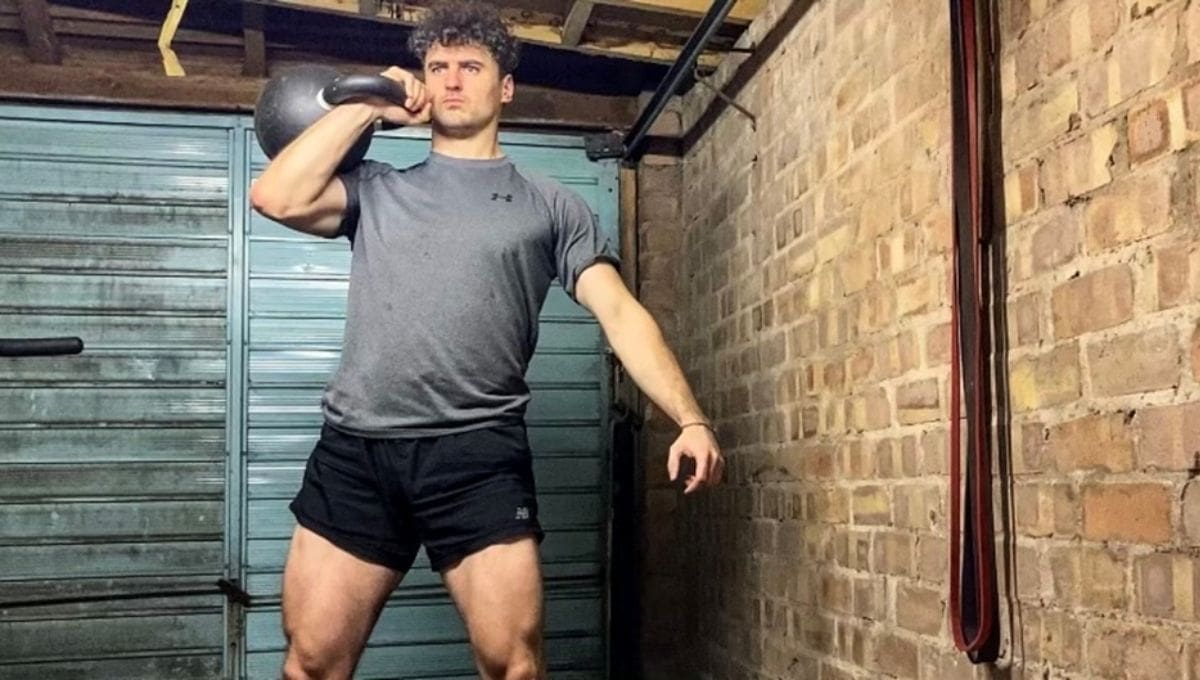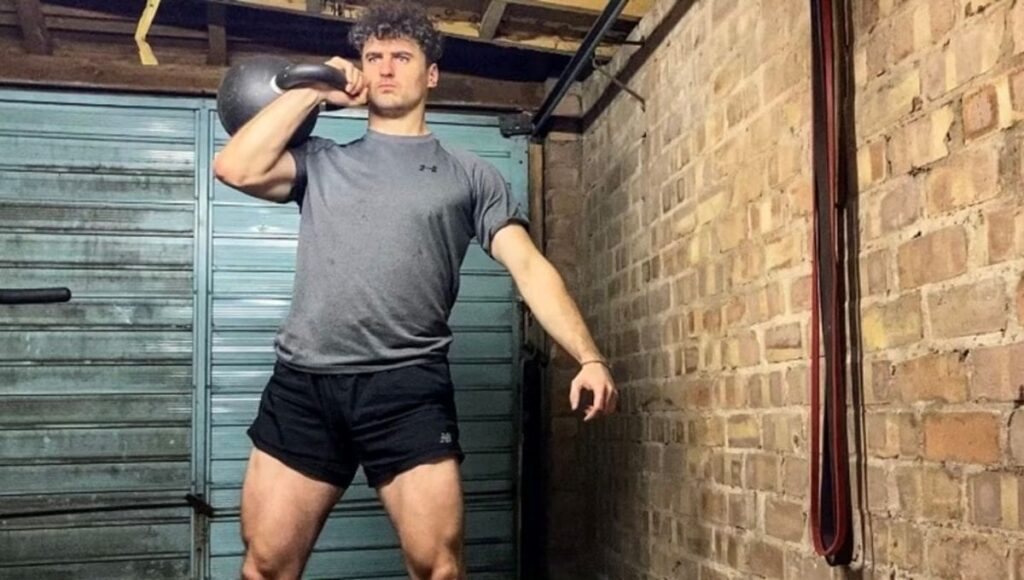 6. Chipper
during:
10 kettlebell jerks with the right hand (24/16 kg)
10 Burpees
10 kettlebell jerks with the left arm (24/16 kg)
30 air squats
15 kettlebells for the right hand press (24/16 kg)
15 Burpees
15 kettlebell push with left hand (24/16 kg)
45 air squats
20 Right Hand Kettlebell Cleans (24/16kg)
20 Burpees
20 kettlebell cleans for the left arm (24/16 kg)
60 air squats
25 high pulls with a kettlebell of the right hand (24/16 kg)
25 Burpees
25 left hand kettlebell high pulls (24/16 kg)
75 air squats
30 kettlebell swings with the right hand (24/16 kg)
30 Burpees
30 swings with the left hand (24/16 kg)
90 air squats
On my list of kettlebell exercises for beginners, this might be the best for smoothing kettlebell training into one-arm movements. Although slightly more advanced, they are still basic kettlebell movements that you will be rewarded for learning. The ability to explosively catch, clean, and press kettlebells will help you build strength to sprint faster, jump higher, and lift heavier in other movements.
Not only is it great for beginners working on one-arm kettlebell movements when performed at a more steady pace, but it also gives more experienced trainers a chance to test their strength while working under fatigue. Burpees and air squats take enough of the body to make each round harder, even though the movement gets a little easier each round.
7. EMOM
20 min EMOM
1. 45 Jumping Jacks
2. Max KB Hike Swings
3. 45 Jumping Jack
4. Max KB head cutters
5. Rest
This is the method for me when I want minimal equipment, but very effective strength and conditioning training. Jumpers keep the lungs pumping which in turn helps make Kettlebell moves more challenging.
The goal here is to complete as many repetitions of the kettlebell movement as possible while pushing yourself to match or beat your previous round.
8. Knock Off
during:
300 KB Russian swings
200 air squats
100 Burpees
It may sound too gross to be a beginner workout, but this workout will give you an understanding of exercise management – ​​how to break down the movements in the most effective method for you. It's up to you whether you go for 10 rounds of 30-20-10 reps or grind out 300-200-100 reps. The goal is to finish as quickly as possible.
The 20 Single Most Important Kettlebell Exercises
9. Old money
10 min AMRAP
+1 Burpees
+1 KB Russian swings
A classic combination of swings and burpees, but this short AMRAP increases by 1 rep each round giving you a different challenge as the workout progresses.
Since it's only 10 minutes, you should be able to really attack this and chase a high score. If you want to add some spice to this, you can add a multiplier for the weight used.
8kg – x0
12kg – x1.1
16kg -x1.3
24 kg – x1.6
32 kg – x1.9
This means that you will combine your total KB Swings and Burpee reps and multiply them by the weight used, if you are using weights between or greater than 32kg you can calculate the multiplier yourself.
10. KB-DT
5 rounds
12 KB Sumo High Pull Deadlift
9 KB Taters
6 KB Push Press
Single kettlebell, a two-arm variation of the classic CrossFit WOD DT. This variation gives you the chance to get some serious bang for your buck as you hit every muscle group in the body.
Your goal is to complete this as quickly as possible, maintaining form throughout. For an added challenge, try doing it without letting go of the kettlebell.
Remember: Here you can watch a video of all the movements performed in any of these kettlebell exercises for beginners.
I hope these workouts give you everything you need to get you on your way and find your love for the Kettlebell, I hope they also give you some insight into how to program your own minimal workout.
If you need anything else from me I can be found on Instagram @LukeyDPT or www.lukeydpt.com
You can find my eBooks through my website store which will give you some Kettlebell Functional Fitness structure and I also work with clients in a remote coaching capacity if you need something more.
Keep Fitness Alive.
Take care of yourself.
LD
---
About Luke Downing
"NASM Certified Personal Trainer Minimal Kit Specialist, Luca and Roma Ray's dad. As a father and business owner, I am well aware that not everyone has hours every day to spend in the gym. I believe that a lot can be done without much, which is why I am a fan of single Kettlebell training. I like things to be as functional as possible, which means I don't waste time on unnecessary movements. Everything I do with my athletes has a purpose and it carries over to sports, activities and everyday life."