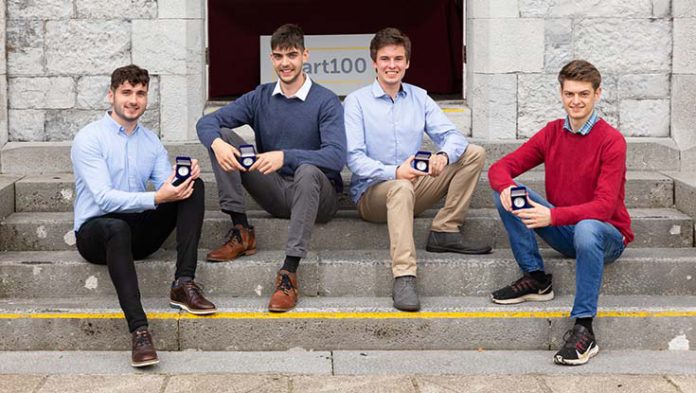 A medical device for stroke survivors and a monitor that protects people and animals from heavy vehicles are among the ideas to watch from NUI Galway's ambitious student entrepreneurs.
ICTUS Medical and IRIS have been crowned winners of the inaugural Start100 program from NUI Galway's IdeasLab.
ICTUS Medical received the overall Start100 award and IRIS received the One to Watch award.
Nine teams of students presented at a special event presenting their innovative ideas to a panel of judges from the worlds of academia, research, industry and business after an intensive six-week program hosted by IdeasLab.
ICTUS Medical is led by Peter Best-Lydon, a Galway native and recent Biomedical Engineering graduate, and Ciarán McDermott, a final year Electronic Engineering student.
They are developing a painless monitoring device that allows stroke survivors to take control of their health by detecting strokes in their sleep.
"We are absolutely delighted with the victory. Start100 has been very helpful with all the connections we've made," said Peter Best-Lydon.
"Every week there is a party at IdeasLab and it was great to get the feeling of working in a start-up. We're really looking forward to making a significant impact on the patient."
The One to Watch award went to IRIS, co-founded by Keelan Rowley and Michael Dillon, both recent graduates of NUI Galway's BSc Project and Construction Management.
IRIS is a safety device that helps to detect the presence of people and animals from machines such as tractors, excavators, dumpers.
A cost-effective device that saves lives and families. Winning this award will allow Michael and Keelan to focus on prototyping and validating their idea.
Start100 is a student entrepreneur incubator program that helps those with an early-stage concept to transform their ideas into potentially investable innovations.
The program provides physical space, key networking opportunities, professional mentoring from alumni and businesses, as well as a support fund of over €40,000.
Students have access to funds for research and development of their idea throughout the program, and have the opportunity to win the final prize fund.
President of NUI Galway, Professor Ciarán Ó hÓgartaigh said supporting their students as they strive to achieve positive "social impact" is part of the university's mission.
"It is very encouraging to see young people finding solutions to problems through innovation, ideas and solutions," said Professor Ó hÓgartaigh.
He added that he was pleased to see them, "that he was supported along the way by our teachers, our university community and our civic and business networks."
A summary of the nine projects presented at the event included:
I said, speak – An informational awareness video looking at the drinking culture in Ireland among students
Receiving relay – Customer insight software for retail and hospitality chains using point-of-sale and consumer application integration
IRIS – A safety device that helps detect the presence of people and animals from agricultural machinery – saving lives and families
Muscle Marketing – Digital marketing for gyms
Scrunch-UP – Summary of anti-spike for students
ThoughtGarden – A self-administered CBT mobile game to reduce anxiety and depression
DataPals.io – A data-driven eCommerce agency that builds and optimizes high-performing Shopify stores
Struts.app – An application that facilitates the remote capture of patient foot scan data using only a smartphone
Tap Medical – A painless monitoring device that allows stroke survivors to take control of their health by detecting strokes in their sleep